Looking for places to go in Costa Rica? Whether it's your first or hundredth visit, there will always be somewhere new to explore in this lush and beautiful country. Tenorio Volcano National Park is one of those. Best known for its star attraction, the bright turquoise Río Celeste, this park is a must-visit.
Since too many travelers skip over the opportunity, this guide will give you the inside scoop on why it's worth seeing, along with some key points of interest, information on how to get there, and whether I think a tour of the park is merited (as opposed to going on your own).
Let's get into it:
Where Is Tenorio Volcano National Park?
If you've even scratched the surface of Costa Rica itineraries, chances are La Fortuna is on a majority of them. This is an area at the base of the iconic Arenal Volcano and is the closest large town to Tenorio Volcano National Park. Most travelers visiting La Fortuna stick to the waterfalls, volcano hiking trails, and hot springs nearby, missing out on the national park, which is a 90-minute drive away.
To get there from La Fortuna, you'll head northwest on the highway Corredor Noratlántico 4. It's a straight shot and a scenic route (with the potential for sloth sightings along the way). You can either drive there on your own with a rental car or do a tour, which is what I did (check it out here). Another option that is much more affordable is taking a public bus from the Transpisa company from La Fortuna to San Rafael de Guatuso and then from there to Río Celeste (which is the stop for the national park). The ride costs around $10 each way.
Things to Do in Tenorio Volcano National Park
Cross the Río Celeste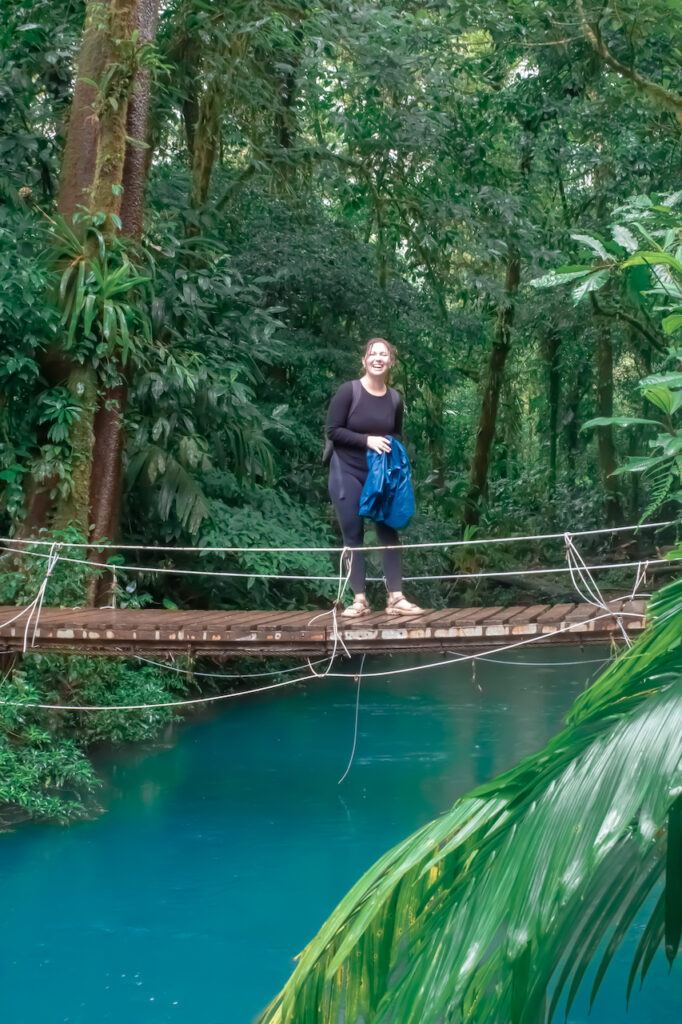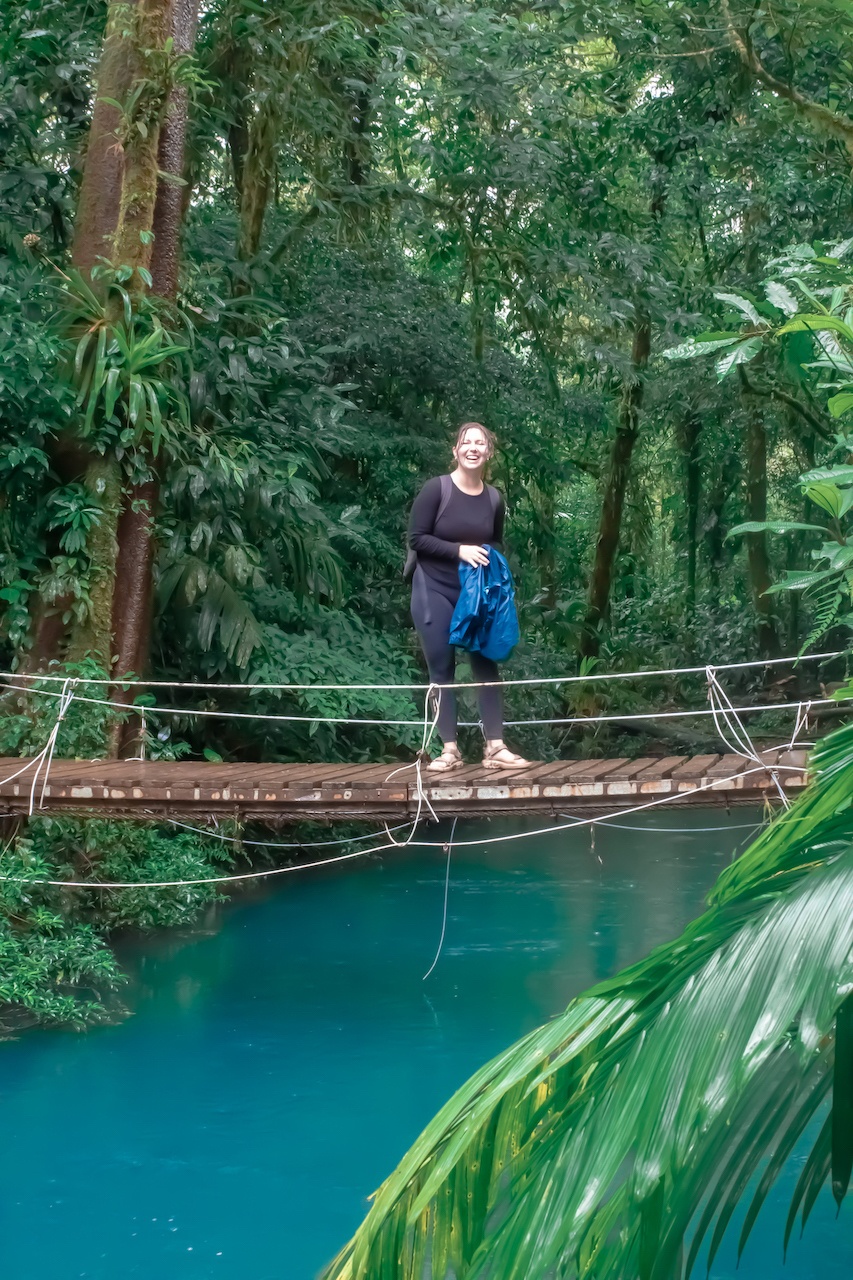 Río Celeste ("sky-blue river" in Spanish) is truly a wonder to behold. I had never seen water so vibrantly blue before. The contrast between it and the green hues of the surrounding jungle combined for some truly spectacular scenery. That made the trip worth it all on its own.
There are several points within the park where you can cross small footbridges over the water. The best one is near Los Teñideros, where the water changes color.
Marvel at Catarata Río Celeste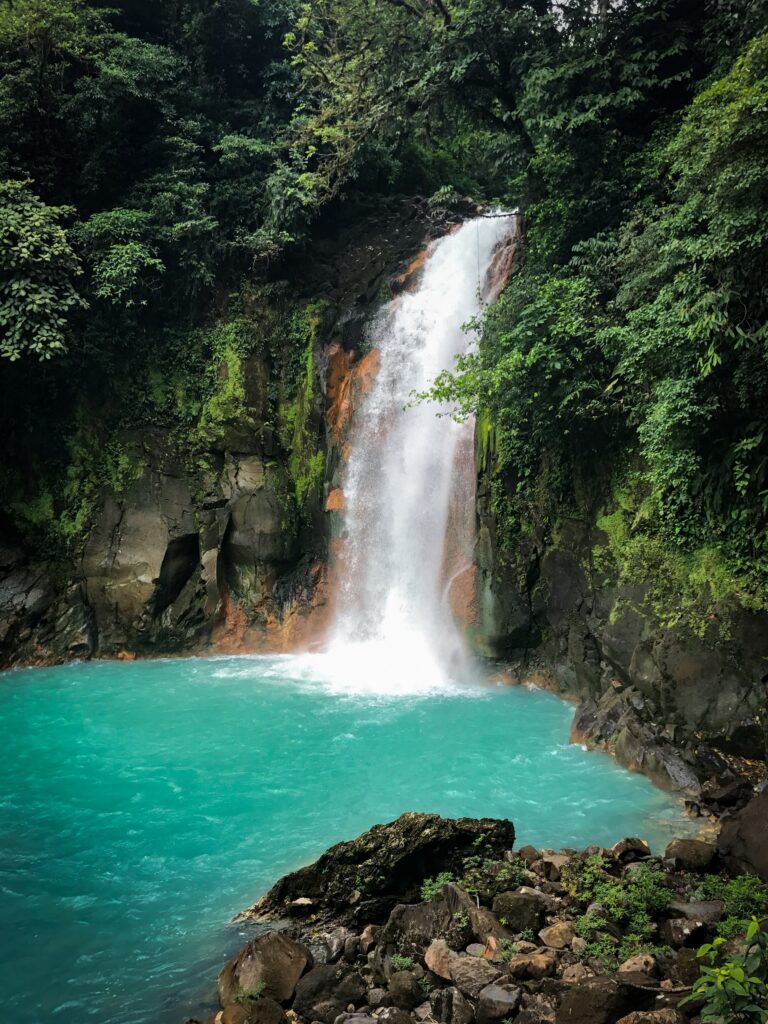 After seeing the impressive Catarata La Fortuna, I didn't think the waterfalls in Costa Rica could get any better. However, when I arrived at Catarata Río Celeste, I realized I was mistaken. This one is just as thunderous as the La Fortuna waterfall but perhaps better preserved, because swimming at the base isn't allowed. Here you can see the namesake blue color in all its glory, and maybe a rainbow in the mist on a sunny day.
There are dozens, maybe even hundreds, of steps leading down to the waterfall, so be prepared for a workout on the way back up. This was also the busiest part of the national park, so getting there at peak time meant wading through other visitors in order to snap a photo. Try to get there first thing in the morning, when the park opens at 8am, and head straight to the waterfall.
Look for the bubbles at Los Borbollones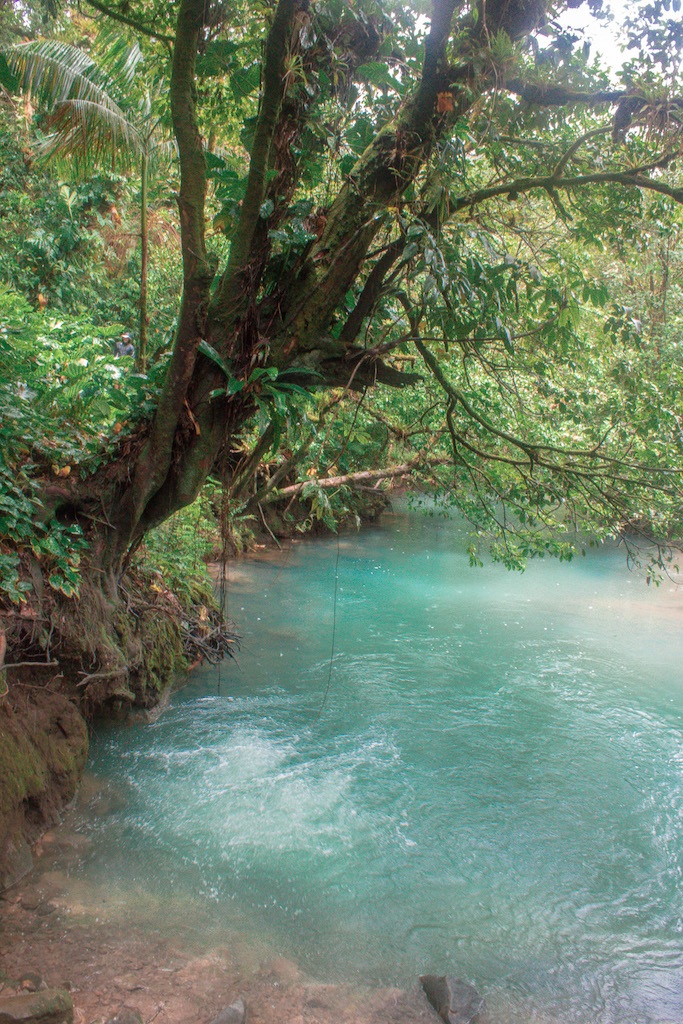 Since the national park is at the foot of a volcano, there's a flurry of geothermal activity here. One of the places where this is most present is at Los Borbollones. Here you can see bubbles carrying sulfuric gases rising to the surface, producing its peculiar rotten-egg smell. This is a neat place to stop if you get as excited about natural phenomena like this as I do.
Watch the river change colors at Los Teñideros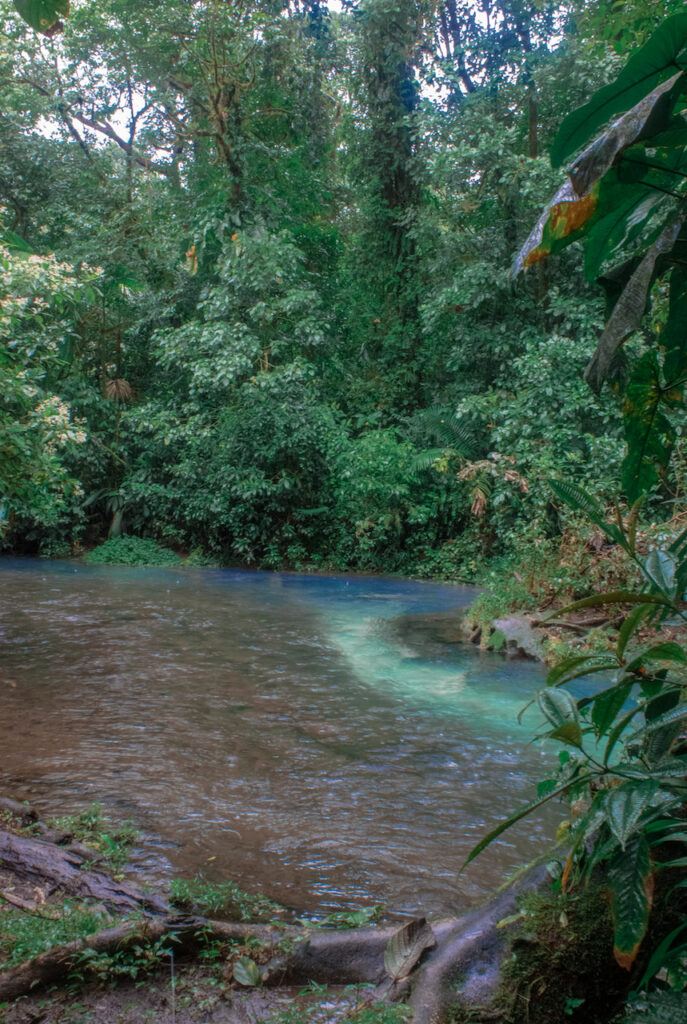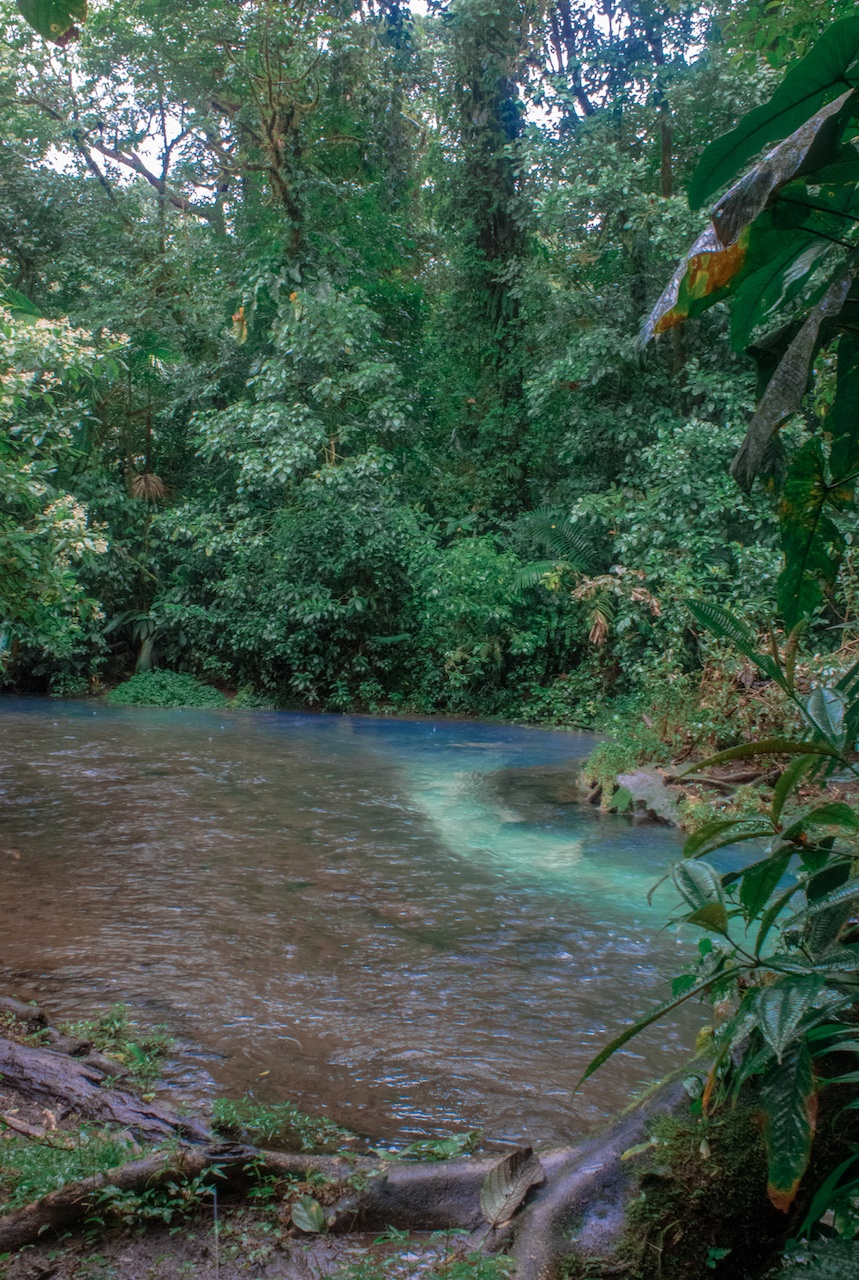 Los Teñideros was by far one of the most puzzling places I visited in Costa Rica. It is the site where Río Celeste appears to change to its iconic blue hue. The word teñideros in Spanish means "dyers," which refers to this abrupt change in the river's color. The change happens where two clear rivers merge; the blue color comes from the combination of volcanic minerals, producing a chemical reaction.
Los Teñideros is not only an incredible scientific wonder, it also has important cultural significance. For centuries, people referred to this site as the place where God dipped his brush while painting the sky blue.
Go for a swim in a hot river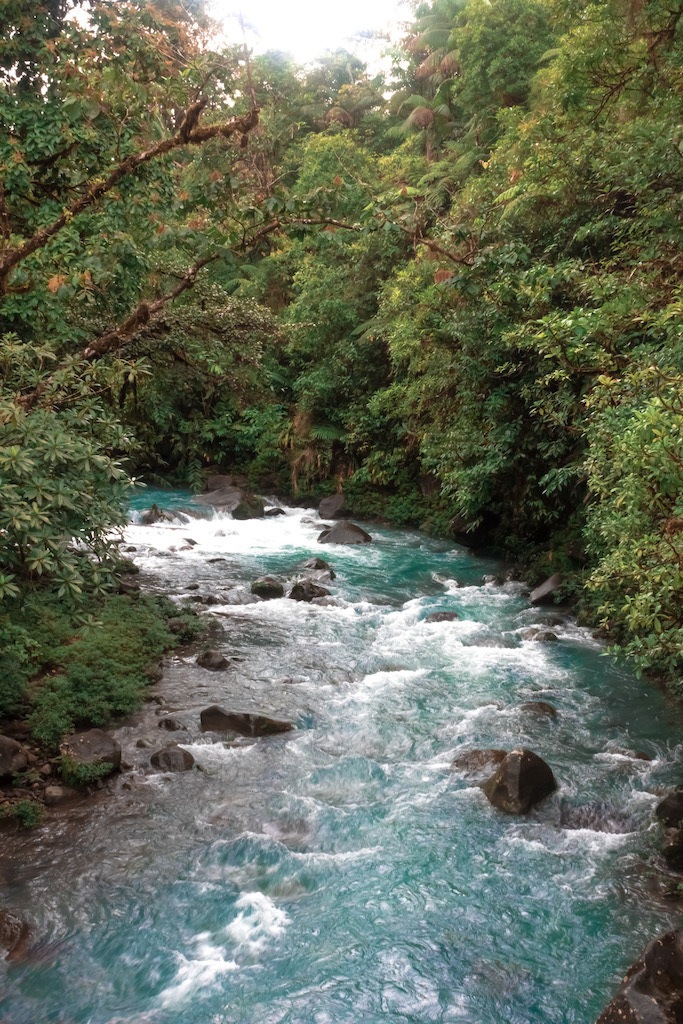 Just a kilometer from the entrance to the national park is a bridge over a hot river; its warm temperature is due to the geothermal activity of the Tenorio Volcano — and it's perfect for a soak. From the road, you can easily climb down to the river and enjoy it for free. This is a popular spot, so you'll likely find plenty of other visitors here. If you walk a little further along the river, away from the bridge, you can find a quieter spot if you want to soak in solitude.
Best Tours of Tenorio Volcano National Park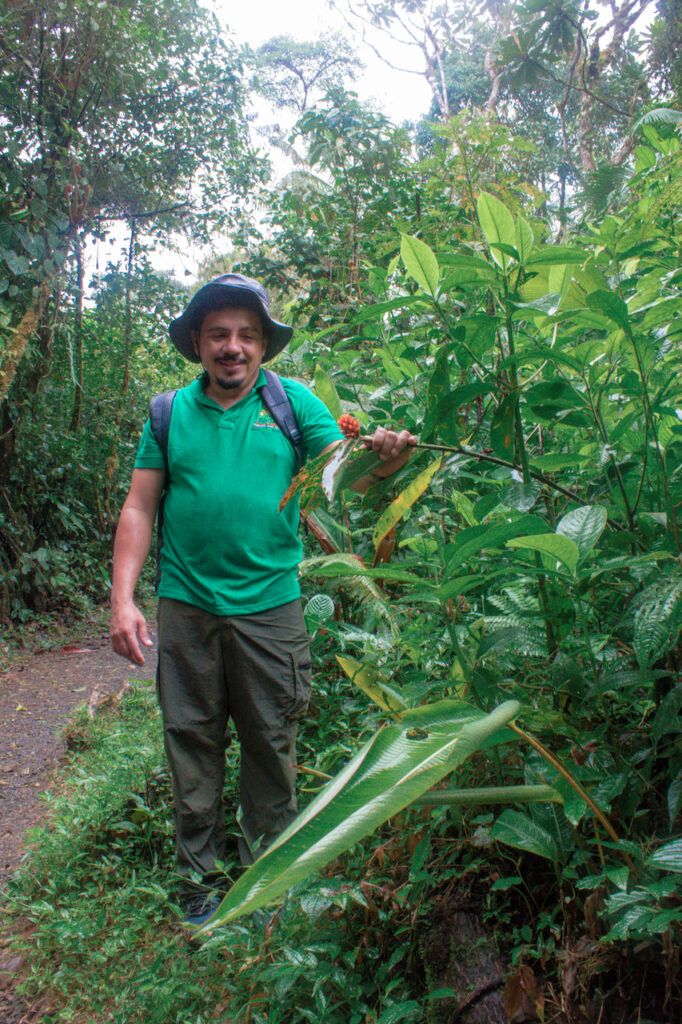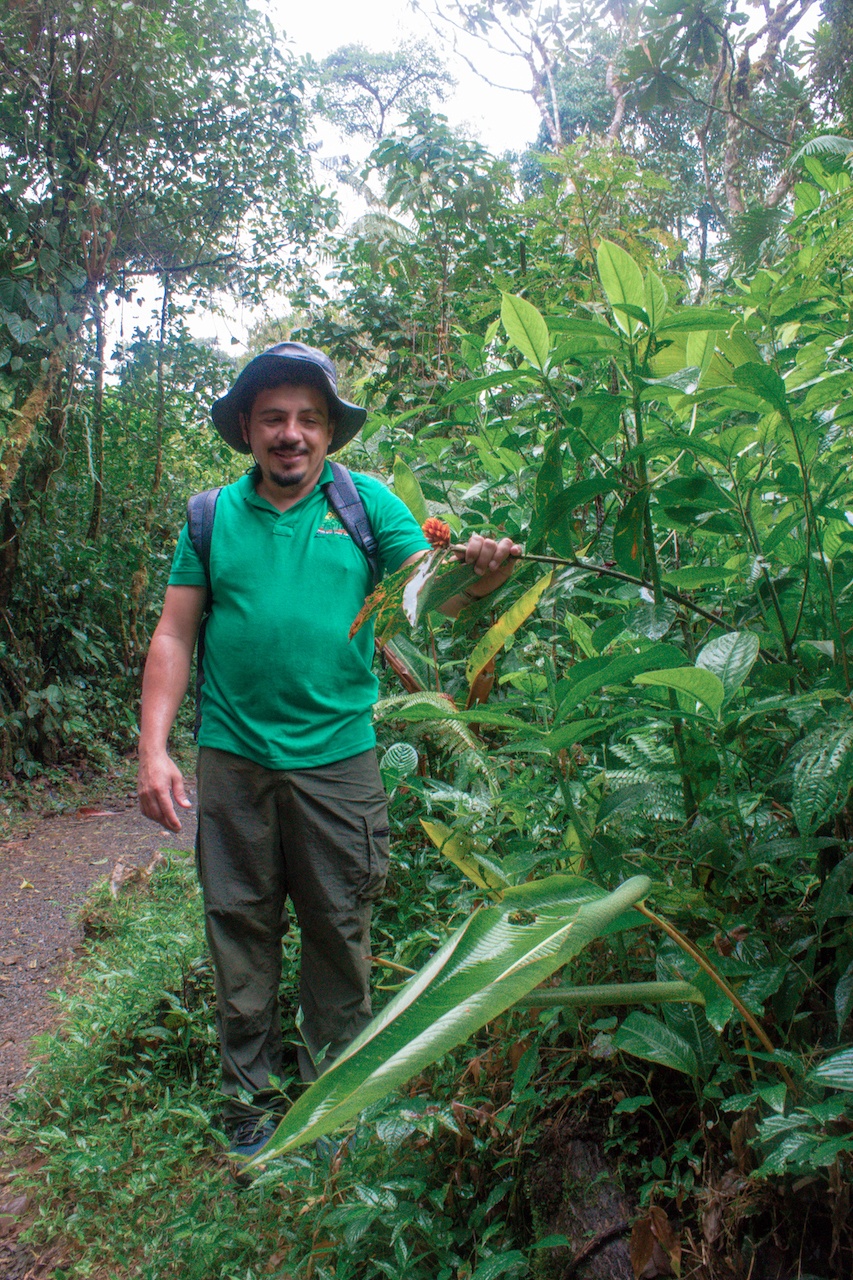 If I were to visit this national park again, I would probably opt for a rental car or go on my own, so as to have the freedom of deciding when to go and how much time to spend there. However, I thoroughly enjoyed exploring with a guide, because he was there to provide helpful information about the river and waterfall, and other science-y tidbits. He was also a certified naturalist, and so was able to point out rare birds, lizards, and other animals along the way.
Since it was my first visit to Tenorio Volcano National Park, a tour was ideal, and I recommend any other first-time visitors do the same. Even though going it doesn't grant you as much freedom, having a guide makes for a much more integrated experience.
Here are some great options for tours that include Tenorio Volcano National Park:
Where to Stay
There are two options near Tenorio: stay in La Fortuna, or stay close to the national park. In La Fortuna, there are many more accommodations, ranging from backpacker hostels to luxury resorts. Here are a few to pick from:
Budget: The Arenal Poshpacker hostel focuses on providing an elevated backpacker experience, with spacious rooms and dorms starting at just $18/night. Book here.
Mid-range: Casa Luna Hotel & Spa has its own nature trails, along with a pool and four jacuzzis, plus stunning views of Arenal Volcano. Rooms here start at $160 per night, which is about mid-range for this area. Book here.
Luxury: When it comes to luxury stays in La Fortuna, it doesn't get much better than Tabacón Thermal Resort & Spa. With private access to natural hot springs, the $300-700/night price tag is worth it for travelers who want to go all out on their accommodations. Book here.
If you want to stay closer to Tenorio Volcano National Park, there are fewer options in general, but more unique accommodations. Here are some that I recommend:
Budget: For a cozy cabin feel, check out Cabaña Vista Río Celeste. The rooms are quaint, and the hotel is in the middle of nature, perfect for travelers looking for peace and quiet. Rates start around $38/night; you can book here.
Mid-range: Garza del Sol Glamping has gorgeous tents that fit up to three people, starting at around $58/night. These tents are right on the edge of the rainforest and an epic place to stay near the national park if you want to truly immerse yourself in the beauty of Costa Rica. Book here.
Luxury: With the ultimate mix of luxurious accommodations and wild nature, Río Celeste Hideaway Hotel is a great pick if you want a truly unforgettable experience. Rooms start around $350/night; book here.
Pin me for later: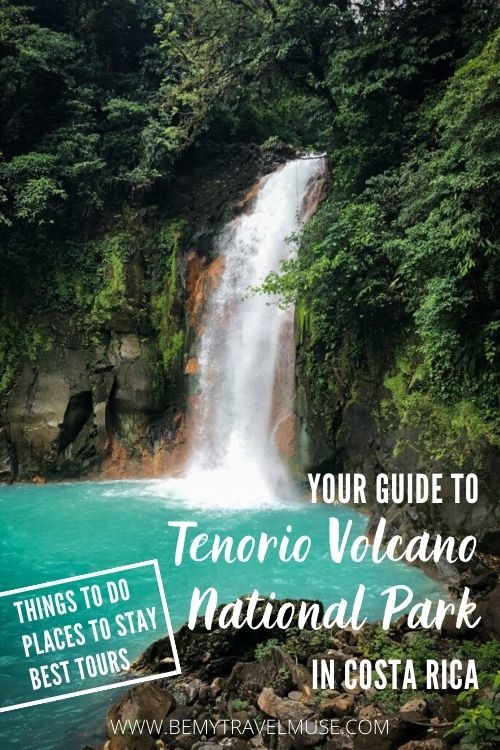 Although Tenorio Volcano National Park is gaining popularity, it still feels like a hidden gem compared to other mega-touristy places in Costa Rica. I liked it more than Arenal National Park, because it has everything Arenal has, plus the added bonus of being less crowded.
If you're heading to Tenorio Volcano National Park soon, let us know what you're most excited about!
Click to read more posts about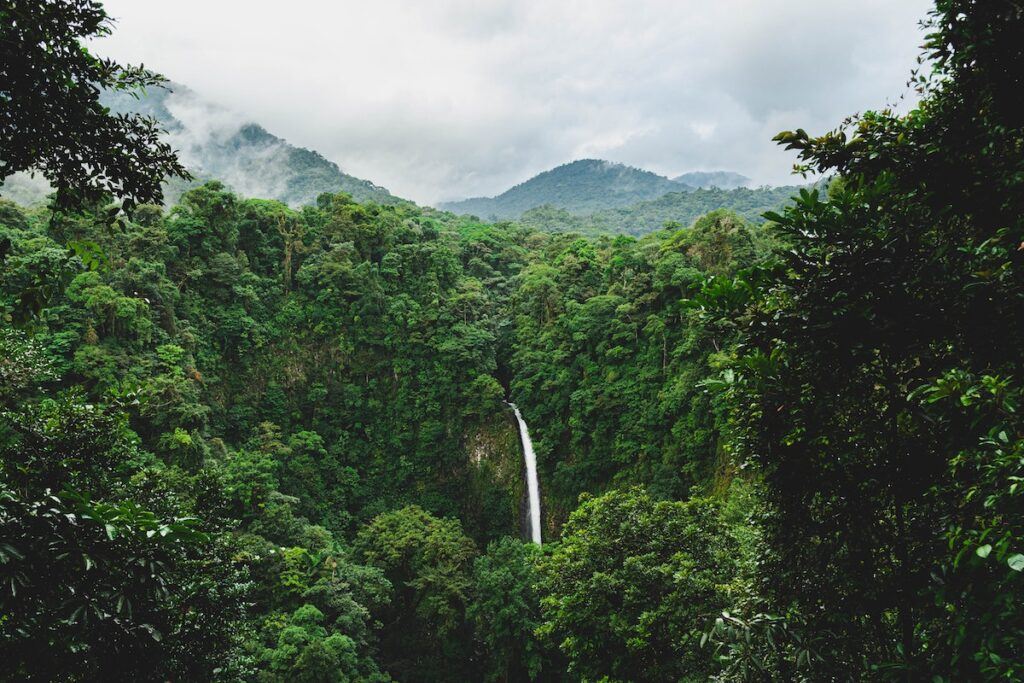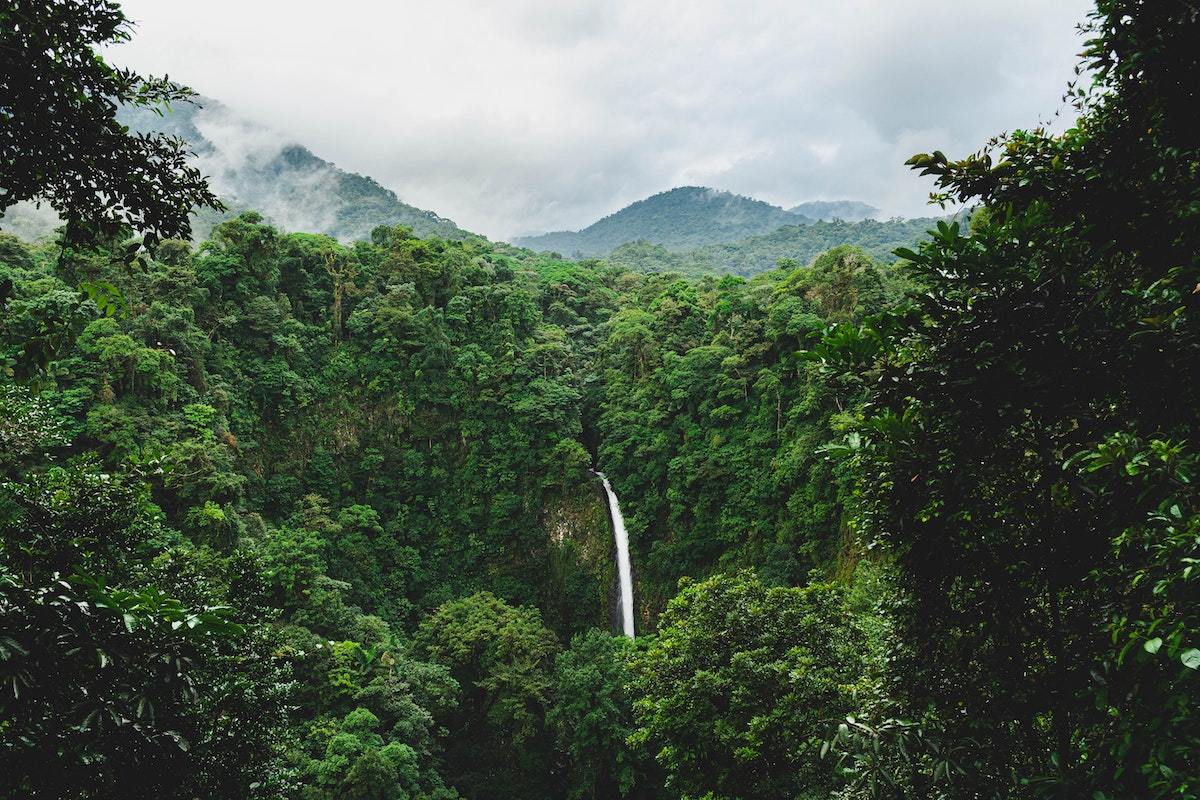 Costa Rica