Effective June 1, travelers to the territory will no longer be required to use the travel portal, reminded Gov. Albert Bryan, Jr. on Tuesday at the Government House weekly press briefing and COVID-19 update.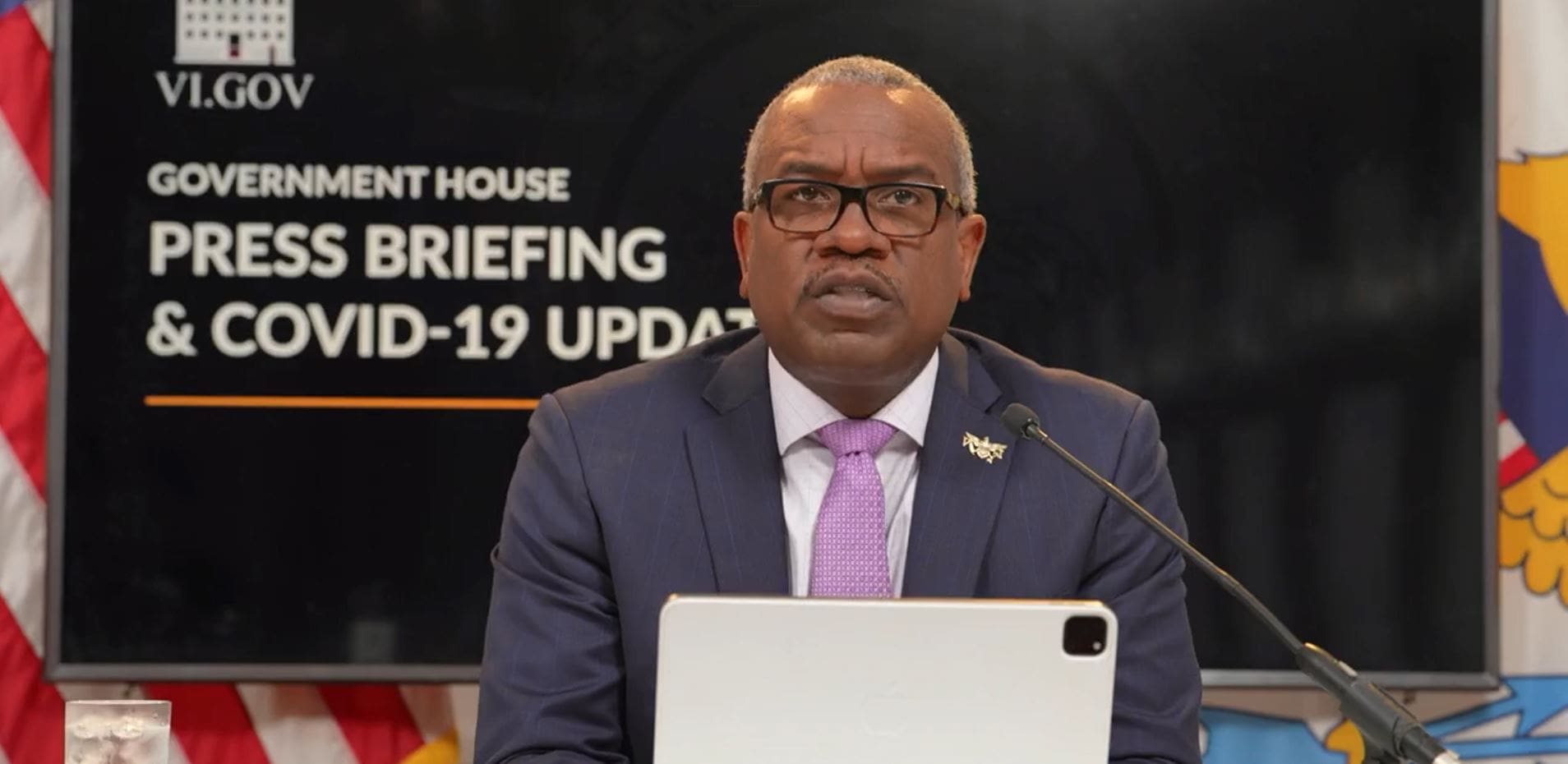 "Most of you know we are transitioning from COVID-19 pandemic to endemic," Bryan said. "We now have the tools and information necessary to protect ourselves from a serious illness."
Bryan said that the travel portal is one of those tools that they have relied on over the last several months. "We believe that this tool effectively served its purpose in protecting Virgin Islands residents," he said.
"We are taking down the travel portal completely. What doesn't change, though, is the fact that the Federal Government requires you to have a negative test within 24 hours from a foreign port".
Commissioner of the V.I. Department of Health, Justa Encarnacion, provided the latest information on COVID-19. Currently, in the territory, there are 664 active cases (487 STX; 147 STT; 30 STJ). This brings the 7-day positivity rate to 11.58 percent. There are three COVID-19 patients hospitalized, with one on a ventilator at the Juan F. Luis Hospital on St. Croix and six COVID-19 patients hospitalized at the Schneider Regional Medical Center on St. Thomas.
Later in the briefing, Gov. Bryan announced that the proposed Executive Biennial Budget for Fiscal Years 2023 and 2024 has been submitted to the 34th Legislature. The theme of this budget proposal is "Framing our Financial Future" to acknowledge events that occurred over the weekend. Some highlights of the executive biennial budget include $2 million to fund the Office of Disaster Recovery and $225,000 for the continued support of the Office of Gun Violence Prevention.
During the beginning of the briefing, Bryan also recognized a few events that occurred over the weekend. "I need to congratulate the Ag Fair Board and the Department of Agriculture, all those cooks, farmers, ranchers, and everybody else who was at the Ag Fair and made it such a success this year."
Bryan also acknowledged that the government house had young recruits for a community saluting young men and women event. He also highlighted bike racing and riding, basketball tournaments, and cricket games.
Gov. Bryan also invited the community out to celebrate "Aliyah Boston Day" on Saturday, June 4. The parade recognizes Aliya Boston for winning almost every national college basketball award this year. The parade will begin from Griffith Ball Park on St. Thomas at 11:30 a.m. before ending at the waterfront promenade, where there will be a brief ceremony honoring NCAA Women's Basketball All-American and National Champion Boston.
Anyone who thinks they may have contracted COVID-19 can call the Epidemiology hotline at 340-712-6299 (STX) or 340-776-1519 (STT-STJ). For more information, visit covid19usvi.com.
For information about the COVID-19 vaccines or to schedule an appointment to get vaccinated, call the V.I. Territorial Emergency Management Agency hotline Monday to Fridays from 8:30 a.m. to 3 p.m. at 340-777-VACS (8227).
Positive test results from a home COVID-19 test should be confirmed, and confirmation is necessary if medical therapeutic treatment with an oral antiviral or monoclonal antibodies is to be prescribed.
Confirmation testing can be arranged by calling the COVID-19 hotline at 340-712-6299 on St. Croix or 340-776-1519 on St. Thomas. The hotline is open from 8 a.m. to 5 p.m. Monday through Friday, and testing appointments can be made online at http://www.Covid19USVI.com/testing.
The Community Vaccination Center at Schneider Hospital on St. Thomas will be open from 8 a.m. to 5 p.m. on Monday to Friday and on Wednesdays on St. John at the V.I. Port Authority gravel lot.
Free vaccinations at the Community Vaccination Center at the Charles Harwood Complex on St. Croix are available by appointment, which can be made by calling 340-777-8227 or by going to http://www.covid19usvi.com/vaccines. Walk-ins also are available.